Avocado-Shaped Pool Float with a removable pit for this Summer – People are happy because it won't turn brown overnight
As pools become more and more popular and affordable for homeowners, there has been an increase in some wild and crazy pool floats. From giant flamingos to avocados, there seems to be a pool float made into everything these days. Unlike the giant flamingos available at Sam's Club, the giant avocado is only available on Amazon.com so far. You are wondering why avocado is so popular all of a sudden; well it has been deemed one of the most popular fruits by millennials. People of all ages are happy to see this avocado and buying them with great reviews after using the float.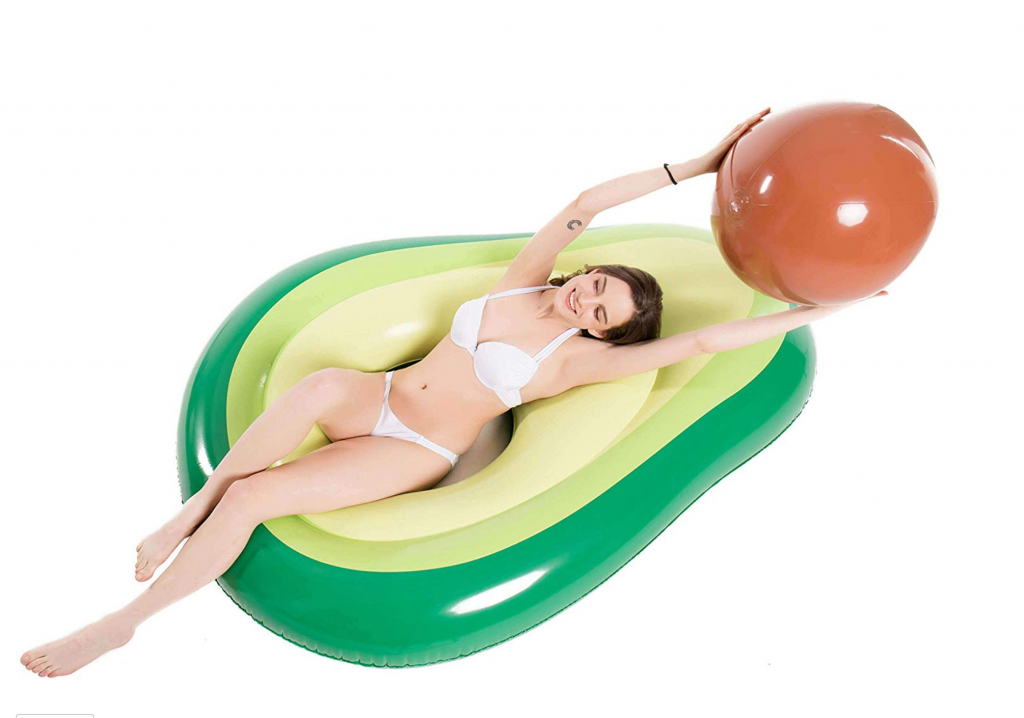 We realize this is a Keto blog but this is definitely keto related and it adds a bit of fun and charm to our blog and hopes you enjoy the information provided. You can now take your keto diet right to the pool! Made by Lets Funny, this avocado pool float is being sold for up to $35.00 on Amazon.com. The avocado is not limited to just pols, take it to the lake, or the beach and be the talk of the area with your large avocado! You can even cruise down the local creek or river with this giant avocado and we are sure you will turn a few heads as you pass by some people.
There are some great features of this giant avocado including its size. It is 65 inches long by 52 inches wide which means it is over 5 feet long and over 4 feet wide with a height of 10 inches! It does include an 18-inch beach ball that stores conveniently inside the avocado as the pit of the fruit. This ball can stay in and be used as a leg prop or taken out and your legs can fit into the hole and go right into the cool water on those hot summer days. Not only is the avocado giant, but it can hold a large amount of weight; up to 600 pounds! It also comes with a 180-day warranty against defects. People are extremely happy with the avocados ability to hold air with its double leak-proof material and how comfortable it is while sitting and lounging in it. The beach ball adds extra excitement as now you don't need to bring another toy to the beach, you already have it with you and the avocado makes a great 2-in-1 pool or beach toy.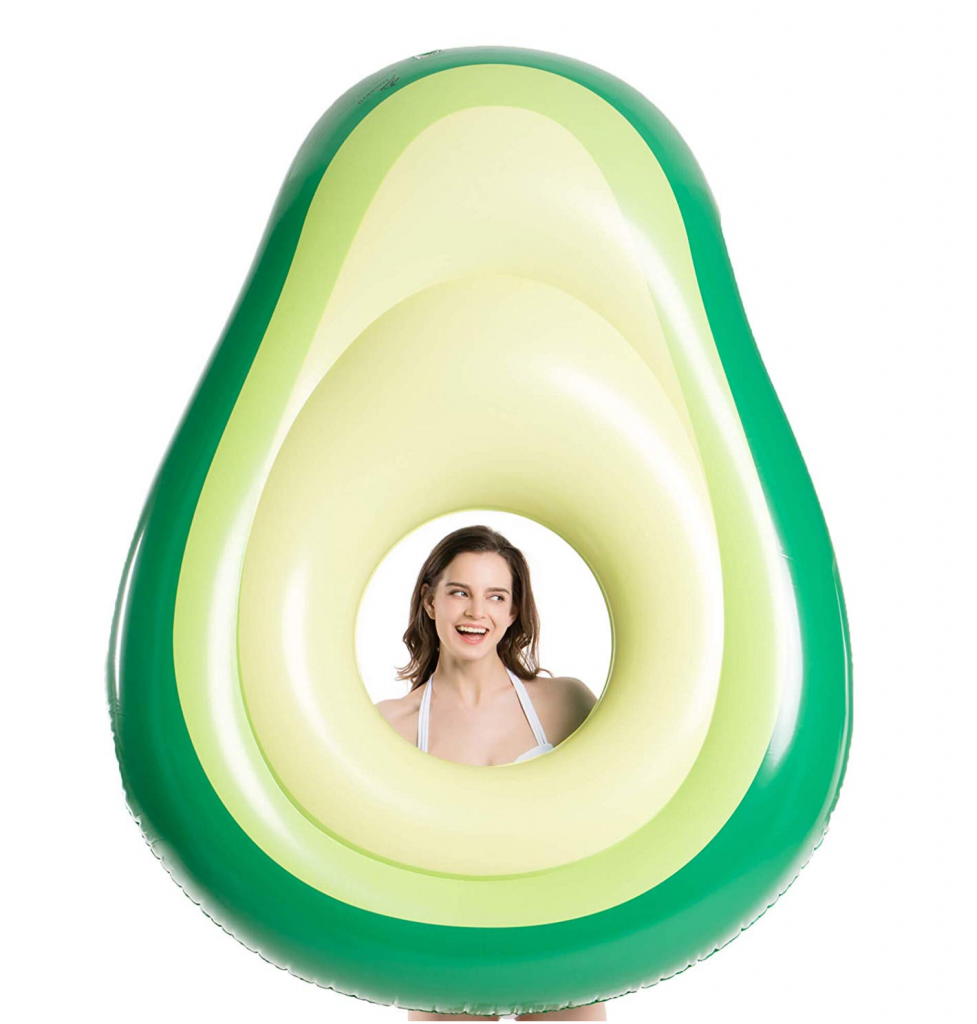 The avocado inflatable pool or beach float is so great that is has an 87% 5-star rating and 3% 4-star rating which means 90% of its customers have a great review of the product. Only 10% of the ratings are 1, 2 or 3-stars. While you are lounging on this giant avocado, you can take some selfies for Snapchat, Facebook or Instagram! Don't just buy this avocado for yourself; they make great birthday, Christmas or graduation gifts for the avid swimmer or beach goer. This giant inflatable only weight 3.15 pounds and the manufacturer states it can last up to 10 years if proper care is taken on the avocado.
This avocado also features pinch valves that won't deflate when you stop the air inflow into the valve. The rapid valves also allow for up to 5 times faster inflation and deflation. You can blow the avocado up with an electric air pump, hand pump, r hair dryer on cool. It does include a waterproof phone bag to store your cell phone in or anything else small you want to store and keep dry while you are enjoying this giant avocado float. Most reviews also state there is so much room in here that it makes it easy to almost fall asleep in so this backs up the thoughts that it is extremely comfortable. One customer stated they blew their avocado up but it deflated right away and they contacted customer service and they sent out a brand new avocado for them instantly so not only is the avocado great, but the customer service is great as well. This should make any buyer feel comfortable knowing they are in good hands even with a defective product. So many of the reviews are talking about the quality of the material and workmanship and how the avocado holds air so well. Many have used it at pool parties with multiple adults and kids using it at once with it holding air the entire day.
I have a pool and have had many inflatable pool lounges and have not seen as many positive comments as this avocado has. If I was looking at buying this, I would purchase right away by the reviews and looks of it. If you are unsure if you should purchase it, I would recommend purchasing it before they are out of stock because demand seems to be high for this avocado.